My little Sister turned 18 in October 2012 and, after making my Mum's 50th Birthday cake, I volunteered to make her 18th Birthday cake.  My Sister had an idea of what she wanted, a white, tiered sponge cake with mint green coloured decorations.  So I set to work on yet another special birthday cake for a family member.
The first stage for me, was to make the cake topper and the decorations to go on the cake.  I used mint coloured sugar floral paste to make the stars and the butterflies, although this was fiddly and took some time and practice it really was the best option as sugar floral paste is lightweight and sets hard unlike fondant icing.  I used non toxic, food safe glitter, florist/craft wire and a posy pick to assemble the cake topper.  The butterflies, once cut, were placed into the crease of a piece of folded card, which allowed them to dry with the wings at an angle rather than flat, which gave a great effect.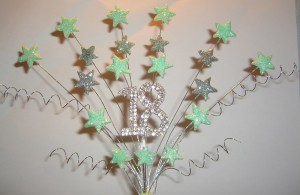 Two days before my Sister's party, it was time to make the cake.  I  made two round cakes, one about 2 inches smaller than the other, so that there was a good size difference between the two tiers.  Once cooled I filled the layers of each cake with jam and homemade vanilla butter-cream.  Then I crumb coated each of the two tiers, individually, with the butter cream.  This would allow a smoother surface once the fondant was covering the cake and would stop lots of crumbs getting into the fondant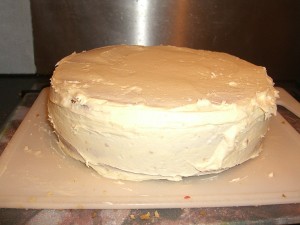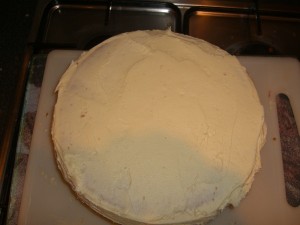 After the crumb coat, I covered each cake, individually, with fondant icing.  This took a bit of time and patience to get it just right and to stop the icing from tearing.  I used a smoothing tool to get the shape and smooth finish.  Then I stacked the small cake on top of the larger one, using some butter cream to help it stay in place and then finished each tier with a Mint coloured, satin edged, wired organza ribbon and fixed it in place using edible glue.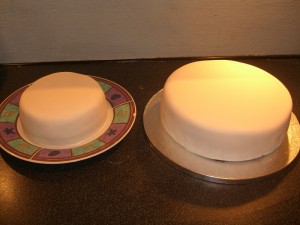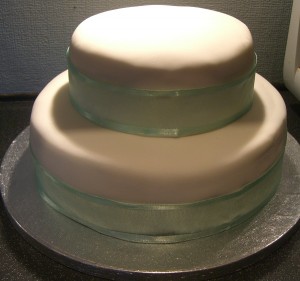 Once stacked, the next stage was to decorate the cake with the butterflies and the silver and mint green stars that I made previously from the sugar floral paste.  These were fixed to the cake using the edible glue.  Once I was happy with the decorations, I made a loopy bow from the left over wired ribbon that I used around the edges of the cakes.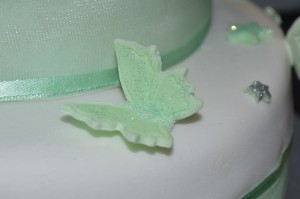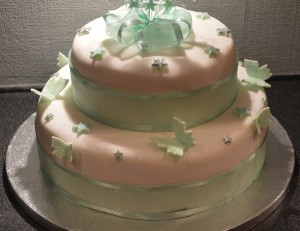 So, the last step was to add the cake topper I had made in advance on to the top of the cake!  I have to say I was very pleased with myself once I had finished this little project.  I really enjoyed making it and I am happy to keep making cakes and cake toppers!